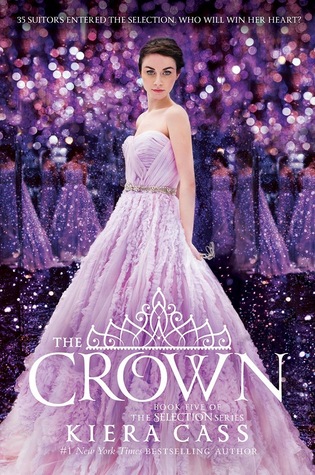 Preis:
$ 12.00
Einband:
Taschenbuch
Seitenanzahl:
277
Altersempfehlung:
ab 14
Meine Wertung:
4 Schmetterlinge
Reihe:
The Selection #5 (Finale)
Verlag:
Harper Teens
Will ich kaufen!
Kurzbeschreibung



Kiera Cass's #1 New York Times bestselling Selection series has captured the hearts of readers from its very first page. Now the end of the journey is here. Prepare to be swept off your feet by The Crown—the eagerly awaited, wonderfully romantic fifth and final book in the Selection series.
In The Heir, a new era dawned in the world of The Selection. Twenty years have passed since America Singer and Prince Maxon fell in love, and their daughter is the first princess to hold a Selection of her own.
Eadlyn didn't think she would find a real partner among the Selection's thirty-five suitors, let alone true love. But sometimes the heart has a way of surprising you…and now Eadlyn must make a choice that feels more difficult—and more important—than she ever expected.
(Quelle und Bildcopyright liegen bei Harper Teens)

Äußere Erscheinung

Wie schon auf dem Cover zu The Heir ist wieder Eadlyn darauf zu sehen. Dieses Mal trägt sie ein rosa Kleid, dessen Dekolleté ihr zu weit ist. Das ist eindeutig zu erkennen! Außerdem gefällt mir nicht, wie sie in die Kamera schaut. Da hat mir das Cover zu The Heir besser gefallen.

Meine Meinung
(Spoiler für die, die Band 4 noch nicht gelesen haben)

Kiera Cass' Schreibstil ist sehr angenehm und flüssig zu lesen, so dass man dieses Buch perfekt als Lektüre für Zwischendurch einschieben kann. Man braucht nicht groß nachzudenken beim Lesen und kann sich einfach fallen lassen.

Die Geschichte geht da weiter, wo The Heir geendet hat. Nach dem unerwarteten Herzinfarkt von America liegt das Königreich in Eadlyns Händen, da Maxon jede Minute an Americas Seite verbringt. So hat Eadlyn neben ihrer Selection, dem Beinahe-Tod ihrer Mutter und Ahrens überraschender Hochzeit auch noch das ganze Land zu regieren. Puh, unter dem Druck zu bestehen … keine Ahnung, wie sie das macht.
Schon zu Beginn des Buches schrumpft die Selection zur Elite zusammen und die letzten 6 buhlen weiterhin um ihre Hand. Ich als Leserin hatte meine ganz eigenen Tendenzen und werde hier nicht spoilern, aber meine erste Wahl war leider nicht ihre. Trotzdem fühle ich mich nicht unzufrieden, wenn ich an ihre Wahl denke.

Der letzte Band der Selection-Reihe ist wie eine Heimkehr, nach einem Jahr endlich wieder nach Illéa, und nach anfänglichen Schwierigkeiten, mich wieder in die Geschichte und den aktuellen Stand der Dinge hineinzufinden, konnte ich mitfiebern und habe Eadlyn sogar noch lieber gewonnen als ich sie schon in Band 4 hatte. Fast alle Männer der Elite haben sich noch mal von ihrer besten Seite gezeigt, so dass – wenigstens mir – bis zum Ende nicht klar war, wen sie schlussendlich wählen wird.
Leider ging es mir dann doch ein wenig zu schnell. 277 Seiten, um das ganze Finale unterzubringen war vielleicht etwas knapp bemessen, ich hätte mir etwas mehr Konflikt gewünscht, bevor es dann – natürlich – zum Happy Ende gekommen wäre. Potential hätte es definitiv gegeben.

Das Ende war nicht das, was ich mir für diese Reihe vorgestellt hatte und dennoch kann ich nicht sagen, dass es mir gar nicht gefällt. Für Eadlyn hat es funktioniert und deshalb verabschiede ich mich mit einem lachenden und einem weinenden Auge von der Selection-Reihe.



Fazit



Ein würdiger Abschlussband, der mich trotz kleinerer Schwächen überzeugen konnte. Irgendwie bin ich traurig, dass die Reihe vorbei ist.